As bringing her on the wonderful panoramic single track from Como to Bellagio with a rented emtb,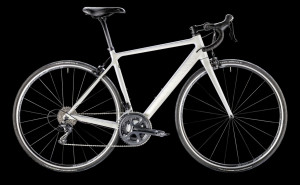 she complained about the difficulties of riding a bike on not paved roads, I thought my wife's Christmas dreams could come true finding a road bike under her Christmas tree.
To be exact, a Canyon Endurace WMN CF 8.0, with Shimano 105 and alloy wheels, about 8.2 kg including pedals, cages supports and bike computer … the kind of bike 99 % of "professional amateurs" like me would not go crazy for (it has just a 105 and alloy wheeels !), but enough for my wife to be impresssed by its lightness and easiness of movement (which, by the way, I took for granted for anyone not used to the magnificence of road bikes).
As I knew it, before packing it I tested the bike on a epical Ghisallo – Muro di Sormano, on the roads of Il Lombardia (here a video of our ride), and I also was surprised.
Let's be clear … if it costs about 1.800 euro instead of 5.000 (or more) there are lots of reason wht and you can feel the difference; this does not mean Endurace CF 8.0 is not making its job more than fairly.
Of course the bike is not as reactive as higher prices ones, expecially when you're climbing en danseuse, but it goes fast enough a "professional amateur" to enjoy his ride without missing his specialissima too much; Shimano 105 rear derailleur is incredibly exact, even out of the box with no setting; 105 brakes are not as powerfull as Ultegra ones, but they works enough to feel safe in any downhill.
The big plus of the endurace lines, including this one, is the revolutionary leaf spring design seat post, a Canyon patent, absorbing shocks and vibrations and increasing consistently the rider's comfort (it really works); a great plus for anyone rides his bike with a touristic mood.
In a few words, a very nice surprise also for a professional amateur like me.
Low investiment, big return; the perfect bike for anyone approaching cycling without knowing where the bike will bring him, for anyone pedaling with no performance anxiety and for anyone with a low budget.
No problem even even in putting the bike together; basically, you just have to take it out of the box, add the wheels, screw the pedals and the handlebar (things any cyclist should be able to do, unless they want to go back home walking in case of puncture).