Since I put Michelin Power Competition tyres on my wheels my existential question is if they are faster or not than Vittoria Corsa Graphene ones, which are now the term of comparision for any discussion about tyres speed.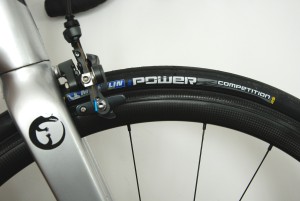 About 500 km later, the revelation was that it's not so important to find out which one is the best, since also Michelin ones give you a great feeling of rolling, a really pleasant feeling of smoothness and a sense of safety also on the freezy winter roads; add their total black look is very stilish (expecially on my total carbon wheels) and it's enough to 100 % appreciate them without any other question or comparison.
This new tyre from Michelin comes with two brothers: Michelin Power Competition, Power All Season and Power Endurance … as you can imagine from their name, the first one is performance oriented, the second is made to give the maximun aderence in all weather conditions and the last one to give the maximun duration.
What is important is the all of them are projected to support at their best disc brakes, whose braking power would be unuseful without a proper tyres aderence, and to resist to the higher consumption given by their hard braking.
Anyway, great first impression … let's talk about them again after some (I hope a lot of) more km to check their duration and puncture resistance.